PinzSimple-Left
Ehemaliges Default Template
Ein ehemaliges Vorzeige-Template, Es gibt 4 CSS-Files zum auswählen. Hier ist das gleiche Template nochmal als PinzSimple (Menu: Right) in der Auswahl. Auffallend: Die gerundeten Ecken der Bilder; das führt bei einigen Modulen zu unerwarteten Effekten.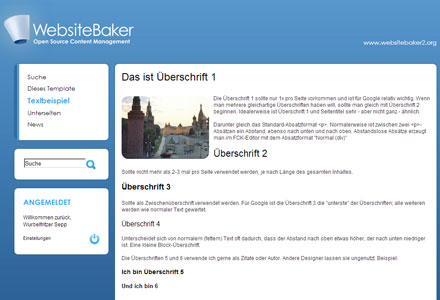 Blocks: 1 (Content)
Menus: 1 (Main)
Login: full
Search: yes
Valid: yes

Licence: In combination with any version of any kind of software which is produced and originaly published by the WebsiteBaker.org Project PinzSimple is available under the GNU General Public License.
Author: pinzweb.at OG
Description: Default template for WebsiteBaker.

» QR-Code
Check this template
with your smartphone!