?>
artfish_slide
Auffälliger Slider
Ein Template mit einem recht originellen Slider. Ein moderner Browser wird vorausgesetzt, auf älteren Browsern funktioniert der Slider zwar, aber es fehlen Effekte.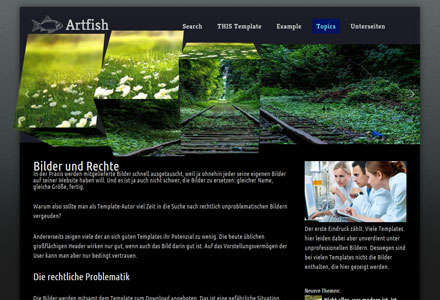 Blocks: 2 (, Content, Content_rechts)
Menus: 2 (, topmenu, none)
Login: no
Search: no
accessible: yes

Licence: Creative Commons. You can adapt and use this template, but leave the link on some pages with level 1
Author: by byte-worker.ch
Description: A dark and clean Template with a simple slider. Good for photographers website.

» QR-Code
Check this template
with your smartphone!
Block2