cloudz
Makes a sunny day
Basierend auf dotsflow, allerdings mit Bildern im Hintergrund - die sich etwas anders verhalten. Daher wurde das Template noch mal kräftig überarbeitet. In script.js können einige Werte verändert werden.
Wer will, kann statt den Wolken auch Ballons oder Vögel einbauen.
Auf schwächeren Computern kann der Paralaxen-Effekt etwas ruckeln. Deswegen ist er am Handy abgeschaltet.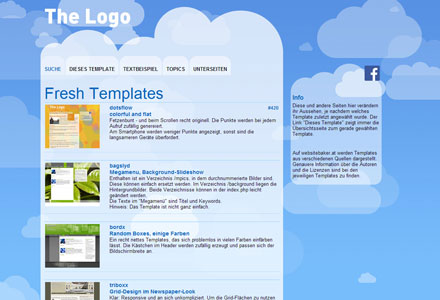 Blocks: 1 (Main)
Menus: 2 (Main, none)
Login: no
Search: no
responsive: yes
accessible: yes

Licence: Creative Commons. You can adapt and use this template, but read licence.txt
Author: Chio Maisriml
Description: Responsive Webdesign: For use with all modern browsers. Modify values in script.js

» QR-Code

Check this template
with your smartphone!