daflagga
4 Teaserboxes
Daflekk ohne Flecken, aber breiter. So dass sich 4 statt 3 Teaserblöcken ausgehen. Sonst noch neu: Das Menü bleibt bei Scrollen oben stehen, die Höhe der Teaser wird an den jeweils höchsten angepasst.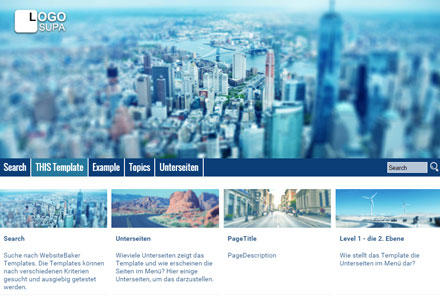 Blocks: 5 (Main, Right, Big Top Content, Big Bottom Content, none)
Menus: 2 (Main, None)
Login: full
Search: yes
responsive: yes
accessible: yes

Licence: Creative Commons Attribution Licence 3.0. You can modify and use this template, but read licence.txt first
Author: Design by Chio Maisriml, www.beesign.com
Description: Responsive Webdesign: For use with all modern browsers

» QR-Code

Check this template
with your smartphone!
Comments:
Hallo, super Template, aber seit dem WB 2.10.0 Update funktioniert es nicht mehr. Der Slider wird nicht mehr angezeigt. Habt ihr eine 2.10 kompatible Version?
Besten Dank

Antworten
Hallo, Gibt es eine Anleitung wie der Flexislider auf der Startseite funktioniert? Irgendwie wird der über die ID der Seiten aufgerufen?

Antworten
OK, Ein Beispiel für Style 1; white

Antworten