darkspace
Sauber und modern
Responsive, schick, tragfähig, mit ein klein bisschen wooshie. Hinweis: Das Headerbild hier ist nicht inbegriffen, wer klaut ist selber schuld.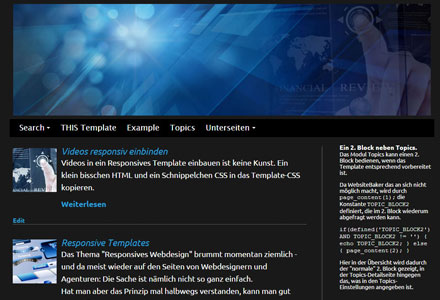 Blocks: 4 (Hauptblock, Rechte Spalte, Header, nicht zeigen)
Menus: 2 (Hauptmenue, nicht in Nav.)
Login: no
Search: no
responsive: yes
accessible: yes

Licence:
Author: meerwinck communication
Description: Fitgrid CSS Framework is licensed under GPL and MIT by Jan Mueller. See http://www.fitgrd.com for more information. smartmenus is licensed under MIT by Vasil Dinkov, Vadikom Web Ltd. See readme.md and LICENSE-MIT in the js folder of this template.

» QR-Code

Check this template
with your smartphone!
Using external Google-Fonts