Industrious by templated
Mobile First
Ein recht spartanisches Template, das sich relativ einfach anpassen lässt. Das Menü ist vertikal rechts und vor allem für Tablets/Smartphones gemacht. Bei vielen Seiten (wie zb hier) ist das etwas unübersichtlich.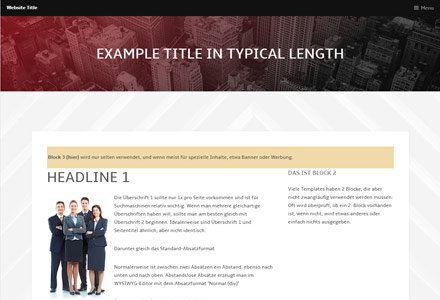 Blocks: 5 (Main, Aside, Large Top, Large Bottom, No output)
Menus: 3 (Main Navigation, Footer Links, No Link)
Login: no
Search: no
responsive: yes
accessible: yes

Licence: Creative Commons Attribution 3.0 license (templated.co/license)
Author: templated.co
Description: Template Industrious by templated.co, portation as Template for WBCE CMS by florian. 4 blocks (Main / Aside (optinal) / Large top / Large bottom. Website header is used for output in the footer.

» QR-Code

Check this template
with your smartphone!