Naebfjyr2
Big responsive slideshow #2
Nahezu identisch mit Naebfjyr, aber das Menü verhält sich bei Parents anders: Erster Klick zeigt die untergeordneten Seiten (Childs) im Menü, erst der 2. Klick auf den selben Menüpunkt öffnet diese Seite.
Dadurch werden die Unterseiten sehr bevorzugt.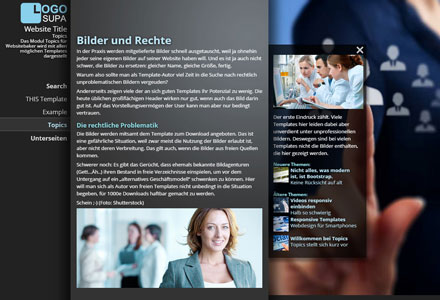 Blocks: 3 (Main, Right, none)
Menus: 3 (Left, Bottom, none)
Login: no
Search: no
responsive: yes
accessible: yes

Licence: Creative Commons. You can adapt and use this template, but leave the link on some pages with level 1. Slider by http://responsiveslides.com/
Author: Design by Chio Maisriml, www.beesign.com
Description: One more try to create the perfect template

» QR-Code

Check this template
with your smartphone!