Template ThisHoly Responsive
ThisHoly Responsive
Holy Spirit für unterwegs
Solange möglich bleibt der optionale 2. Block sichtbar, auf Smartphones ragt er knapp in den Inhalt hinein und ist durch simples Rechts-Scrollen sichtbar. Eine pragmatische Lösung für die alte Frage: Wohin mit dem 2. Block.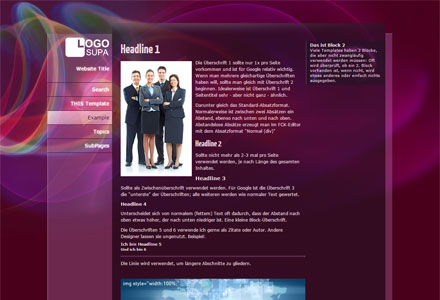 Blocks: 2 (Main, Right)
Menus: 2 (Left, none)
Login: no
Search: no
responsive: yes
accessible: yes

Licence: Creative Commons. You can adapt and use this template, but leave the link on pages with level 1
Author: Design by Chio Maisriml, www.beesign.com
Description: One more try to create the perfect template

» QR-Code

Check this template
with your smartphone!
Comments:
danke für das Template: habe es mal umgebastelt:

www.berglust06.de

Antworten
Yepp, es lässt sich für jedes Template eine brauchbare Einstellung finden

Antworten