verflup
GUP und ColorChoser
Wenn GlobalUpload vorhanden ist, kann man damit die Headerbilder hochladen, ansonsten werden die 4 mitgelieferten Bilder verwendet.
Die Farben lassen sich per ColorChoser ändern.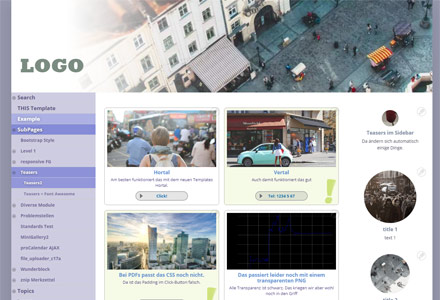 Blocks: 6 (Main Content, Sidebar, Wide Top, Wide Bottom, Alt. Header, None)
Menus: 2 (Main, None)
Login: full
Search: yes
responsive: yes
accessible: yes

Licence: Creative Commons Attribution Licence 3.0. You can modify and use this template, but read licence.txt first. Photos: pexels.com
Author: Chio Maisriml, beesign.com
Description: Responsive template with vertical menu

» QR-Code

Check this template
with your smartphone!