Standard WBCE 1.4
WBCETik
Standard WBCE 1.4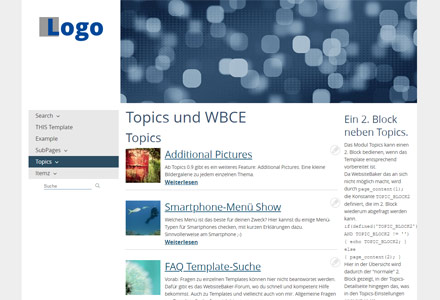 Blocks: 6 (Inhalt, Seitenspalte, Breiter Inhalt oben, Breiter Inhalt unten, Linke Spalte, nicht zeigen)
Menus: 2 (Navigation, nicht in Nav.)
Login: partial
Search: yes
Valid: yes
responsive: yes

Licence: Responsee is licenced under MIT, MFG Labs icon set under CC-BY 3.0 and SIL Open Font License, Open Sans is licensed under Apache license. Images from pixabay.com, Pixabay License.
Author: Florian Meerwinck
Description: Klassisch aufgebautes Template mit vertikaler Navigation, Content- und optionaler Seitenspalte, optionalen breiten Blöcken darüber und darunter.

» QR-Code
Check this template
with your smartphone!